There are people with circumstances too dire that it's almost impossible not to rely on others for help, at least for the time being. Folks who suddenly lost their jobs or have gotten into deep debt are some of the examples. If you're one of those who have gone through hard times, it might be easy to relate. These problems are not easy to solve, though. In times like these, you can't change your fate but you can change your attitude.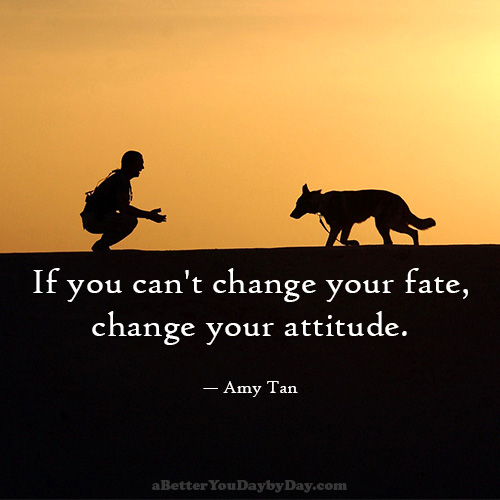 You Are What You Think
According to the Law of Attraction, you attract what you think. A positive attitude attracts positive situations. It's incredible how a change to this way of thinking can change everything around you. Have you ever noticed people who always seem happy? It's their positive attitude that makes them react positively to every situation they're in.
Here are 5 tips for you to have a positive attitude too:
Live the day. Many people often make it through their day like clock work. Don't just make it through the day, live it. Here's what Richard Branson has to say: We don't wake up at 5 a.m. because we have a ton of work to do, or because we want to tell people how hard-working we are. We do it because that's what living life really means.
Be grateful for what you have. Dreaming of something is not bad at all. We all have dreams in life. But those who are grateful for what they already have attract positive actions, while those who are not satisfied think they will never have everything they want.
Stop playing the blame game. Games are supposed to be fun. If you're not having fun playing a game, learn from it and move on. Choose a fun game next time. Dwelling on problems from the past only means that you failed to learn a lesson from that experience. Admit your mistake and begin anew.
Focus on the positive aspect. Stuck in traffic? Notify everyone concerned, then relax and enjoy listening to the music. Use the time to reflect on the things that happened recently. Find something positive in the negative situations you're in.
Laughter is the best medicine. Learn to laugh at your problems from time to time. It's an effective deterrent to self pity. A positive attitude can also be born from a strong sense of humor.
Apply these tips to your own life and share it to everyone you know. If there's one thing that we want to be viral in this world, it's to have a positive attitude towards everything.