It's easy to dream, and it takes a bit of effort to put that dream into a vision board. But the road to realizing that dream is a tough one. There's no easy way to getting there. As you go along, there will be bad choices and events that are beyond your control.
To keep you motivated, here are 5 speeches that will certainly help you learn that despite the adversities, there is redemption.
Ellen DeGeneres, 2009 Tulane University Commencement Address

In her hilarious but uplifting speech, Ellen talked about the death of a loved one, coming out to a national audience and being true to herself. Her most memorable line was:
Follow your passion and stay true to yourself. Never follow anyone else's path, unless you're in the woods and you're lost and you see a path, and by all means you should follow that.
---
Jim Carrey, 2014 Maharashi University of Management Commencement Address

In Jim Carrey's speech, he talked about choosing his own path and standing by it. In his words: I learned many, many lessons from my father, but not least of which is that you can fail at something you don't want, so you might as well take a chance doing what you love.
---
J.K Rowling, 2008 Harvard Commencement Address

In her speech, J.K Rowling talked about failing miserably in life – marriage, parenting, work. She explained that it is worth the risk as long as you strive to live a meaningful life. Her parting words were: As is a tale, so is life: not how long it is, but how good it is, is what matters.
Her outstanding speech was made into a book which released on April 14, 2015.
Very Good Lives: The Fringe Benefits of Failure and the Importance of Imagination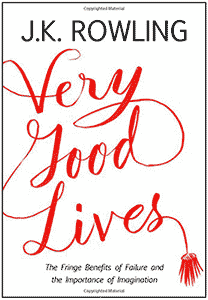 ---
Oprah Winfrey, 2008 Stanford Commencement Address

In her speech, Oprah talked about money, learning, and the lessons you get from learning. There are a couple of sections worth quoting in her speech:
I believe that there is a lesson in almost everything that you do and every experience. Getting the lesson is how you move forward, is how you enrich your spirit. And trust me; I know that inner wisdom is more precious than wealth. The more you spend it, the more you gain.
Money is pretty nice. I like money. It's good for buying things. But having a lot of money does not automatically make one a successful person. What you want is money and meaning – you want your work to be meaningful, because meaning is what brings the real richness to your life.
---
Steve Jobs, 2005 Stanford Commencement Address

In his speech, the late Steve Jobs talked about trusting in something, loving what you do, death and following your heart and intuition. Up to this day, his speech still leaves many people teary-eyed. Here's one of the most memorable parts of his speech:
Remembering that I'll be dead soon is the most important tool I've ever encountered to help me make the big choices in life. Because almost everything – all external expectations, all pride, all fear of embarrassment or failure – these things just fall away in the face of death, leaving only what is truly important. Remembering that you are going to die is the best way I know to avoid the trap of thinking you have something to lose. You are already naked. There is no reason not to follow your heart.